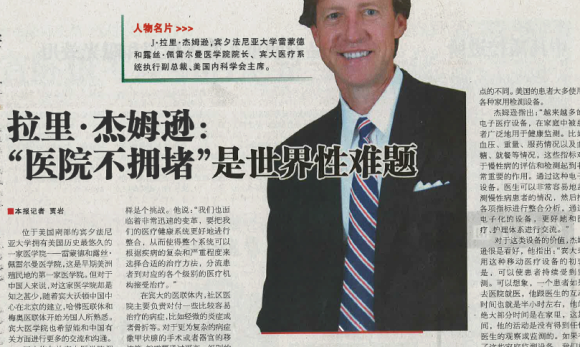 Larry Jameson: Hospital Overcrowding is a Global Problem
Medicine Economic News
July 1, 2015
Profile: J. Larry Jameson, Dean of the Raymond and Ruth Perelman School of Medicine, Executive Vice President of the University of Pennsylvania Health System
The Raymond and Ruth Perelman School of Medicine of the University of Pennsylvania was one of the first medical schools established in the U.S. and the first medical school established during America's colonial period. Until recently though, people in China have known little about the School. But with the establishment of the Penn Wharton China Center in Beijing, as well as Partners Healthcare system and Mayo Clinic Care Network, international medical institutes are starting to gain greater recognition in China, and the School of Medicine of the University of Pennsylvania hopes to increase its engagement with relevant parties in China.
The long-established Perelman School of Medicine is relatively large and in 2013, it received USD392 million in funding from the National Institutes of Health (NIH). The University of Pennsylvania Health System consists of three affiliated national-level hospitals, one clinic system containing grassroots healthcare, school internship bases, home care and hospice services, as well as three pieces of multifunctional satellite equipment.
During his recent first visit to China, Mr. J. Larry Jameson, Dean of the Raymond and Ruth Perelman School of Medicine, Executive Vice President of the University of Pennsylvania Health System and Chair of the American Medical Association, participated in an exclusive interview with China's leading medical journal, Medicine Economic News.
A key topic during the interview was how to solve the problem of overcrowding in large hospitals. Obviously, as a healthcare system manager, Mr. Jameson worries about this problem too.
Leveled Treatment Still not Well Implemented in the U.S.
Mr. Jameson praised China's efforts to develop its healthcare system and to promote leveled treatment. But he says that in his opinion the same problems in China still exist in the U.S. He said, "We are facing rapid reforms that integrate the healthcare system in a way that means treatment is decided based on the complexity and seriousness of the disease and patients are being referred for treatment to the most appropriate 'level' of medical organization."
In the University of Pennsylvania Health System, the community clinics are in charge of ailments that require relatively simple treatments, such as slight inflammations or bone fractures. As for more complicated illnesses such as thyroid gland surgery or organ transplants, higher-level hospitals are needed.
Mr. Jameson categorizes the latter as 'advanced' hospitals because they usually have advanced equipment as well as abundant experience in treating complicated illnesses, which helps ensure better quality of healthcare. Furthermore, the concentration of patients in one hospital makes it easier to assess the effectiveness of treatment.
At present, the University of Pennsylvania Health System adopts three measures to implement leveled treatment. Mr. Jameson said, "More and more patients who were admitted to the in-hospital department are now being treated as outpatients. For example, over 50% of patients that requested in-hospital treatment in the past are now receiving outpatient care. Also, our outpatient department is now doing some pre-operation procedures that were previously completed through our in-hospital department. So, there is now no need for these patients to stay in hospital."
The experience of the University of Pennsylvania Health System has helped to significantly lower medical costs. Moreover, treatment appears to be more effective thanks to reduced cross infection in the hospital and other unwanted consequences for patients which can arise from staying in hospital for long periods.
To promote leveled treatment, the University of Pennsylvania Health System classified its healthcare organizations into several levels. Mr. Jameson told the reporter, "Our hospitals range from the lowest level to the highest level. The Hospital of the University of Pennsylvania is considered 'advanced' and is mainly responsible for treating difficult diseases. Meanwhile, community clinics belong to the second level."
Specialization is also playing a big role inside the University of Pennsylvania Health System. According to Mr. Jameson, "Illnesses are treated by a particular division with its own particular specialty and its own area. For example, the division of neurology is set up in one hospital while the division of cardiovascular in another. Creating divisions based on type of illness help with the efficient allocation of medical resources."
Digital Healthcare: Another Solution to Overcrowding in Hospitals?
Digital healthcare is a growing trend in China as well as in the U.S. The University of Pennsylvania Health System has established its own online platform called MyPennMedicine. Mr. Jameson says, "Electronic forms are a big part of the move to digital healthcare. Using electronic forms in our hospitals allows patients to access their own health information on the online platform and access their test results and prescriptions. They can also interact with healthcare providers online and ask questions or make appointments via the platform."
Another topic worth mentioning is the wide use of home testing equipment, which is now a key focus of digital healthcare development in the U.S. The use of home testing equipment differentiates the U.S. from China. Mr. Jameson remarked, "As more and more electronic medical equipment is made available to families enabling them to conduct health tests at home, various indicators including blood pressure, body weight, blood sugar levels and diet are playing a significant role in helping doctors evaluate and diagnose chronic diseases. Thus, doctors can easily monitor the condition of patients with chronic diseases, produce integrated analysis of all kinds of indicators and enhance communications within healthcare systems by means of electronic device."
Mr. Jameson thinks highly of the equipment mentioned above. He noted, "Digital healthcare equipment helps provide continuous monitoring of a patient's health. Apart from half an hour of interaction with the doctor in the hospital, a patient spends most of his or her time at home where doctors are unable to monitor their activities. With home monitoring devices, doctors can access the health indicators of patients even when they are out of the hospital. We call the devices 'automatic inspection systems'."
For healthcare organizations, investment in the above items can also help their negotiations with health insurance companies, which are a big factor in the U.S. healthcare system. Mr. Jameson revealed in the interview that studies from the University of Pennsylvania Health System found that home testing equipment lowers costs for insurance companies as patients go to the doctor less often. So, it is reasonable for insurance companies to pay more for the use of such equipment.
However, digital healthcare is not without its faults. For instance, patients may not know how to use the data they derive from home tests. Mr. Jameson suggests that nurses could visit patients at home to assess the data and make adjustments to a patient's treatment. For example, after an operation to insert stents, a patient's blood pressure and blood sugar level must be constantly checked. A combination of digital healthcare and home visits can help improve overall patient health.